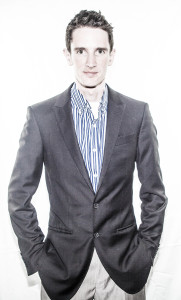 Keelan Leyser is one of the world's top Quick Change Artists, Magicians and Illusionists, having performed in over 55 countries for some of the most prestigious companies, television shows and events. Keelan also owns and runs arguably one of the largest online stores of magic in the world, MagicTricks.co.uk in the UK. Former British Magic Grand Prix Champion in 2007, Keelan has been chosen to represent the UK at the World Championships of Magic in 2012.
Keelan teamed up with colleague Dr David Lewis in 2001 and formed a company called Lewis and Leyser. As a duo they successfully lectured and provided workshops at conferences all over the world for many fortune 500 companies including, I.B.M., Microsoft, Investors in People, NTL and many many others, as well as taking part and guesting in many television shows. They used the psychology of illusion and magic and applied the principles magicians use in their thinking to help businesses in a whole host of topics, including , imagination and innovation, memory techniques, communication and body language. They were one of the first in the country to utilise psychological mind reading effects in business presentations, something that was soon to become very popular in magic. They also used sophisticated electronic, animation, magical, pickpocketing effects together with active audience participation to communicate and make unforgettable the key business ideas and practical, take away, techniques – mostly derived from their own original research.
In 2004 Keelan was also one of the main performers on the 10 part TV series called 'Playing Tricks' along with his life long friend Rich Reed. Playing Tricks was a hidden camera magic and comedy show where the public weren't told we were magicians. Playing Tricks was aired many times on many British and International TV channels. Due to the popularity of this show around the world Keelan and Rich still get asked to perform as a double act for corporate and private events.
In 2006 Keelan was seen regularly back with Dr David Lewis on ITV's This Morning giving his views on psychics, body language and magic and went head to head with some of Britain's leading Psychics trying to disprove some of their theories.
During these years Keelan was booked to create magic effects for major companies including Wrigley's, Coca-Cola, Fanta, Hitachi and Start-rite to name a few and was also magical consultant to the BAFTA awarding BBC 1 show 'Dick and Dom in da Bungalow' for all three series. Amongst large scale Las Vegas style illusions Keelan specialised in creating virtual magic tricks fusing magic and video technology together.
In 2004 Keelan was put together with Charlotte Marie for the UK Modern Jive Championships, after coming second in the cabaret section they teamed up again in 2005 to win the Championships with a fusion of dance and a little bit of magic thrown in to a routine choreographed by Karen Brooks. Keelan and Charlotte were placed in a number of other dance championships around the UK. In 2005 Keelan was asked to create a retail DVD with Charlotte by the UK's Leading Magic Store MagicTricks.co.uk. Keelan started selling a few of his invention and creations through MagicTricks.co.uk which became popular with magicians all over the world.
In 2006 Keelan and Charlotte started to create a Quick Change Act together after being taught how to Quick Change by a USA/Russian act called David and Dania at a private seminar. During 2006 they were lucky enough to secure a huge theatre tour in the UK with the legendary Basil Brush , which combined their Dance Illusion show, but it also gave them the opportunity to hone their Quick Change skills and Routine over a massive 110 theatre performances all over the UK and Ireland. They say they couldn't have perfected the act so well without this tour.
Keelan and Charlotte turned down the offer in 2007 to extend their run in the tour as they had their sights set to enter the British Magic Championships, something Keelan hadn't done for over a decade. This proved to be the right choice as they walked away with not only winning the title of British Magic Champions of General Magic, they scooped the highest award that an act can win in the UK, The British Magic Grand Prix Champions!
For the rest of 2007 and 2008 Keelan and Charlotte were quickly signed up to headline with their full stage show on board some of the most beautiful Cruise Liners in the world, they covered the Mediterranean, Caribbean and Baltics many times over and for those two yeas never really left the seas. In Feb 2008 Keelan and Charlotte flew back from the Caribbean for four performances in the 3500 seater Blackpool Opera house where they are one of the stars of 'The Worlds Greatest Magicians', a show which included the greatest names in magic. Keelan and Charlotte were honored to be included in such an amazing line up! During this time Keelan realised another lifelong dream and became owner along with Charlotte of the UK's Leading Magic Store, MagicTricks.co.uk! So now they had the difficult job of juggling their performance schedule with running a very successful retail business.At the end of 2008 Keelan and Charlotte consulted and starred in a commercial for Rexona 'Sure' Deodorant for Unilever. The advert utilized their quick change magic and is shown in many countries across the world.
In 2009 and 2010 Keelan and Charlotte's Quick Change Act has taken them literally to every corner of the globe! They have performed in all parts of India, with performances for Unilever, Vodafone, One Alliance, Airtel , ESPN and many more including for the British Ambassador in Delhi for the launch of the World Cup Cricket. They also performed many shows in Egypt both public theatre and corporate shows. They performed in Rome Italy for General Motors, Kuwait for mobile company Zain, Malta for the most watched TV show in the country and for the Prime Minister, Morocco for a personal show for the King and Prince of Saudi Arabia, Paris for Fashion Company H&M, Turkey for 2 main TV shows and 16 public shows, Hungary for the launch of a Super Mall, Moscow for Mazda, 11 shows in every major city in South Africa for insurance firm Momentum. They also consulted for a major promotion for Ford , upon which the routine won an important industry award. They also got to the Semi Finals of the TV show Britians Got Talent but had to pull out of the show due to other work commitments and contracts.
They are proud with what they have done with MagicTricks.co.uk, reinvesting their profits back into researching and developing pioneering new magical effects to further the art of magic and some of their effects they have been involved in have been purchased and used by both David Blaine and Criss Angel in the USA. They have also enjoyed developing and creating new magic effects with other well known names and inventors in the magic fraternity as well as creating their own product range and brand for children too called MagicTricksJunior.co.uk.
As of 2012, they have continued to be as popular as ever performing in Shanghai, China for fashion brand Prada, Dubai for a mobile phone giant Du, Vienna infront of 15 thousand people for Forever Living, Oman for Samsung, Kuwait for Zajil, as well as performing on ITV 1's new primetime television show Penn and Teller, Fool Us with Jonathan Ross which proved to be a massive success with the YouTube clip of their act on the show being massively popular around the world gaining millions of views.